Welcome to Centers and Squares
As a Cambridge real estate agent, the city squares of Cambridge, Somerville and Medford and the town centers of Arlington, Watertown and Belmont, Massachusetts are my home turf. And as a lifelong New Englander who's lived within twenty miles of Boston most of my life, I can introduce you to other nearby towns as we search for your new home. If you're planning to sell your home in Cambridge, MA or nearby you'll find plenty of info about the home selling process here too. Questions? Send me an email or call me at 617-504-1737.
If value and location are tops on your real estate wish list you'll want to check out my new listing this weekend.
17A Everett Street in Somerville is a 1-2 bedroom condo in the heart of Union Square Somerville new to the market at $189,000.  The condo needs buffing up and elbow grease but a buyer with vision will reap the rewards of a smart real estate buy. It's the proverbial diamond in rough in a location that's getting more and more popular as the Green Line extension nears and many new businesses open in the square.
The first-floor, 765 sq.ft. condo has a private entrance and eat-in kitchen. Originally configured with one generously sized bedroom and a living room more than 20 feet in length, the condo is being used as a two-bedroom by dividing that living room.  It's a smart use of the space and with some finishing touches you'll be able to maximize the condo's potential.
The association is 100% owner occupied, there's storage and common laundry in the basement, and the roof was replaced two years ago.
For more info about 17A Everett Street in Somerville call me at 617-504-1737 or email me at [email protected].  Showings will take place at open houses this coming weekend on Saturday, Dec. 7 th from 11:30 to 1:00 and Sunday, Dec. 8th from noon to 1:30.
Liz Bolton, ReMax Destiny, Cambridge 617-504-1737. 
Today I headed out to Lincoln for my annual visit to the Audubon Shop at Drumlin Farm.  These two big turkeys were right outside.  There was actually a third turkey sitting among the trees behind us.
Nothing's better than being a turkey strutting about the day after Thanksgiving.
And nothing's better for Christmas shopping than the Audubon Shop.  It's one of my not-to-be missed stops every year about this time. There are gifts for people of all ages from wonderful children's toys to housewares, accessories, jewelry, garden items, bird feeders, binoculars, and all sorts of beautiful and intriguing items.  Why settle for run of the mill when you can instead buy something lovely and unexpected?  The book section is particularly rich with loads of books about animals, birds, nature, the landscape, etc.  Many have a local or New England emphasis.  You can also count on finding very nice boxed Christmas cards here.
As part of my shopping at the Audubon shop I renew my parents' Massachusetts Audubon Society membership.  It comes with a subscription to their excellent magazine, Sanctuary, and all sorts of benefits including 10% off in the Audubon Shop.
So skip the mall and head to the Audubon Shop this month.  You'll be able to make real headway on your shopping list and contribute to a great cause at the same time.
 The Audubon Shop at Drumlin Farm is located on Route 117 in Lincoln, MA.  The address is 208 South Road, Lincoln, MA 01773.  The store is open 10 am to 5 pm and is closed on Mondays except for Monday holidays. 
Lydia Marie Child wrote of traveling for Thanksgiving in her poem, Over the River and Through the Woods. 
The poem is sometimes written as "to grandmother's house we go" but the original version, published in 1844, referred to grandfather's house.
 Over the river, and through the wood
To grandfather's house we go;
The horse knows the way to carry the sleigh
Through the white and drifted snow.
Over the river, and through the wood,
To Grandfather's house away!
We would not stop for doll or top,
for 'tis Thanksgiving Day.
Over the river, and through the wood—
oh, how the wind does blow!
It stings the toes and bites the nose
as over the ground we go.
Over the river, and through the wood—
and straight through the barnyard gate,
We seem to go extremely slow,
it is so hard to wait!
Over the river, and through the wood—
When Grandmother sees us come,
She will say, "O, dear, the children are here,
bring a pie for everyone."
Over the river, and through the wood—
now Grandmother's cap I spy!
Hurrah for the fun! Is the pudding done?
Hurrah for the pumpkin pie!
The river was the Mystic River and grandfather and grandmother's house stands to this day at 114 South Street in Medford looking out at the river.  The house that Child refers to is a smaller, modest portion that now serves as an ell to the large, imposing Greek Revival house that was added in 1839.
Grandmother and Grandfather's house is now for sale according to a postcard I received recently.  It is listed with Hammond for $975,000.
Wherever you're celebrating today – enjoy!  Happy Thanksgiving.
I got to work early this past Sunday and wondered why there was a policeman at the corner outside my office. 
A few minutes later I discovered I had a front row seat to a Cambridge costume race.  Families, friends – all sorts of costumed racers, young and not as young,  went running or walking past our front window.
I had a feeling that the theme had something do with superheros judging from the number of caped crusaders on the street.  Sure enough, this was the Superhero 5K race/walk.  Despite the theme I spotted a variety of costumes including Harry Potter and a bunch of purple grapes.
As you'll see the slide show the race seemed to be doubling back just outside my ReMax office – costumed runners were coming and going. 
Here's some of the pack in my somewhat fuzzy photos – click on the image below to watch the slide show.  Happy Halloween to all!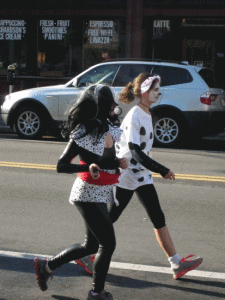 The other night the long line of sign waving supporters for Cambridge City Council candidates on Mass Ave gave me pause.  Was it Election Day?  I was sure it wasn't but it *was* Tuesday after all.  With so many days to vote this fall – the Boston mayoral primary, the special election to fill Markey's seat, even the election that Corey Booker won in NJ – it's been difficult to figure out when the Cambridge election day is.  If you're still wondering it's next Tuesday, November 5th.  Turns out the crowd of campaigners on Tuesday had gathered outside the candidates forum at the Senior Center.
Next Tuesday, November 5, 2013, Cambridge residents will vote to elect City Council and School Committee members.  Twenty-five(!) people are running for nine seats on the City Council and there are nine candidates for the six seats on Cambridge School Committee.  No wonder there are so many election signs around town.
My intention was to link to all the candidates' websites but instead I found an excellent page with a  list of candidates  that links to their interviews, statements, websites, etc.  It's well worth checking out before Election Day.  It's too easy to walk into the voting booth knowing little about many of the candidates.  Since Cambridge residents can vote for more than one candidate, we've got more homework to do than many voters.
Cambridge uses a system of proportional representation for both the City Council and the School Committee voting.  You rank your choices with your vote for your number one candidate your most valuable choice. Even your number two choice matters.  You have to wonder, with this many candidates, if your third or fourth place vote might matter more this year.
And last, in case you missed it, here's a link to the Boston Globe article about the 11-year-old campaign manager for one of the Cambridge School Committee candidates.  Love this!
~~~
First stop on our tour of new listings tomorrow is a Somerville condo for sale at 17 Bonair Street.
17 Bonair Street Unit A is absolutely gorgeous.  It's a large one-bedroom with a real cook's kitchen, walls of custom built-ins in the den and bedroom, and a private enclosed patio that's the perfect spot for parties or grilling dinner after work. It's painted in designer colors and outfitted with custom lighting and wood blinds.  You'll appreciate the in-unit laundry, the extra storage downstairs, and the parking space. 
17 Bonair Street in Somerville MA is close to commuting routes, the Orange Line T, the supermarket, the exciting new Assembley Row development, and Union Square.
This smashing Somerville condo is for sale for $329,000.  Call me at 617-504-1737 for more information or send me an email at [email protected].
17 Bonair St Unit A Somerville MA 02145 is listed for sale with Elizabeth Bolton of ReMax Destiny in Cambridge MA.
Today and yesterday I came across something new – a shoe carousel.  Actually after some online research I discovered it's called a shoe tree and it seems that you can pick one up at your local big box like Target or Bed Bath & Beyond.
I'd never seen a circular shoe tree before so took note when I came across them in two different houses for sale.  There was no missing them – each was loaded with shoes and on display in the bedroom.
I may be on the squeamish side but have to say there is something totally unappealing about a fully loaded shoe tree.  Piles of people's well-worn shoes are typically not visually enticing. The shoe tree makes it worse since the soles face outwards.  A carousel of dirty shoe bottoms – ugh.  It's ugly and, when displayed out in the open, an in-your-face announcement that there's not enough room in your closets.
The houses, priced more than a million dollars apart, had something else besides shoe trees in common.  Each was a mess.
In one case the house had been on the market for a couple of months.  Sometimes home sellers get burnt out.  Keeping the house show-ready for buyers is a drag, especially as the weeks wear on and the place starts to look a bit more lived-in.  Our showing was short notice so I imagine that's the homeowner's excuse.  The mess was so extreme, however, that a day or two's notice wouldn't have been enough.  It was hard to fathom what the sellers were thinking, particularly since they were selling for less than they paid and had done renovations to boot.  It was no way to sell a house.
The other house was new to the market and while not as much of a disaster area was still messy, cluttered, and just generally unkempt.  And there was that shoe tree. It's impossible to quantify how much money the seller will leave on the table by not making the extra effort to be show ready before opening the doors to real estate agents and buyers.  But there's no doubt that there's money to be made by applying some spit and polish before your house debuts on the market.
Kudos to you if you already live in a place that looks like a model home. But for the rest of us you're really best served by clearing out and cleaning up before you have the first agent in, never mind the first buyer.  A good real estate agent will be able to help you with the fine tuning and can make suggestions about furniture or accessories to remove or even add.
And take it from me – if your home is for sale the shoe tree's gotta go.
There's  a party in Union Square this weekend – the What the Fluff festival takes place in Union Square Somerville tomorrow afternoon from 3 pm to 7 pm.
The What the Fluff festivities celebrate the invention of Marshmallow Fluff by Archibald Query of Union Square.  Query cooked up the spread in his kitchen and sold it door to door almost a century ago.
There'll be judges awarding prizes for the best foods created with Fluff, a costume competition, games, and loads of music, food and fun.
The 8th Annual What the Fluff Festival happens on Saturday, Septmember 28, 2013 from 3 pm to 7 pm in Union Square Somerville