Archive for the 'Property Info' Category
21-23 Regent Street is a handsome two-family house in Porter Square.  Regent Street is just a couple blocks from the Porter Square Red Line T (Baptiste Yoga's on the corner) so it's a walk-to-everything location.  The street is a mix of single family houses, multi-families, and condos in converted turn of the century houses or the modern lofts built at the end of the block.
The house will appeal to owner-occupants who'll appreciate the single family feel of the larger unit.  It has its own entrance and offers four bedrooms on two levels.  Regent St is a super location for investors since apartments this close to the T and to local colleges can command premium rents.
This much loved two-family house was home to the sellers for decades.  New buyers will get a chance to make 21-23 Regent Street their own later this week when it comes on the market for $1,100,000.
21-23 Regent Street Cambridge MA 02140 is listed with Elizabeth Bolton of ReMax Destiny (that's me!).  Email me at [email protected] or call Liz at 617-504-1737 for more information.
Today's the day we tour the new listings for the weekend. One of them was the Somerville two-family house for sale that I've listed at 52 Electric Ave, Somerville.  Electric is a great side street between Teele Square and Davis Square.
52 Electric Ave sits up high and the owner's renovation took advantage of the wonderful views and abundant light – there are new windows and French doors to the decks on the back of the house – you can see the distant hills, Harvard Square, and neighborhood rooftops.
A super house for the end user or investor, 52 Electric was extensively updated in 2003 and both units have new walls, ceilings, electric and insulation and updated kitchens and baths.
Open houses are scheduled for Thursday, July 9th from 11 to noon, Friday, July 10th from 4:30 to 6 pm, and Sunday, the 12th, from 1 to 2 pm.
52 Electric Ave, Somerville MA 02144, a two-family house, is listed for sale for $1,100,000.  For more information call Liz Bolton (that's me!) of ReMax Destiny at 617-504-1737.
If value and location are tops on your real estate wish list you'll want to check out my new listing this weekend.
17A Everett Street in Somerville is a 1-2 bedroom condo in the heart of Union Square Somerville new to the market at $189,000.  The condo needs buffing up and elbow grease but a buyer with vision will reap the rewards of a smart real estate buy. It's the proverbial diamond in rough in a location that's getting more and more popular as the Green Line extension nears and many new businesses open in the square.
The first-floor, 765 sq.ft. condo has a private entrance and eat-in kitchen. Originally configured with one generously sized bedroom and a living room more than 20 feet in length, the condo is being used as a two-bedroom by dividing that living room.  It's a smart use of the space and with some finishing touches you'll be able to maximize the condo's potential.
The association is 100% owner occupied, there's storage and common laundry in the basement, and the roof was replaced two years ago.
For more info about 17A Everett Street in Somerville call me at 617-504-1737 or email me at [email protected].  Showings will take place at open houses this coming weekend on Saturday, Dec. 7 th from 11:30 to 1:00 and Sunday, Dec. 8th from noon to 1:30.
Liz Bolton, ReMax Destiny, Cambridge 617-504-1737. 
Lydia Marie Child wrote of traveling for Thanksgiving in her poem, Over the River and Through the Woods. 
The poem is sometimes written as "to grandmother's house we go" but the original version, published in 1844, referred to grandfather's house.
 Over the river, and through the wood
To grandfather's house we go;
The horse knows the way to carry the sleigh
Through the white and drifted snow.
Over the river, and through the wood,
To Grandfather's house away!
We would not stop for doll or top,
for 'tis Thanksgiving Day.
Over the river, and through the wood—
oh, how the wind does blow!
It stings the toes and bites the nose
as over the ground we go.
Over the river, and through the wood—
and straight through the barnyard gate,
We seem to go extremely slow,
it is so hard to wait!
Over the river, and through the wood—
When Grandmother sees us come,
She will say, "O, dear, the children are here,
bring a pie for everyone."
Over the river, and through the wood—
now Grandmother's cap I spy!
Hurrah for the fun! Is the pudding done?
Hurrah for the pumpkin pie!
The river was the Mystic River and grandfather and grandmother's house stands to this day at 114 South Street in Medford looking out at the river.  The house that Child refers to is a smaller, modest portion that now serves as an ell to the large, imposing Greek Revival house that was added in 1839.
Grandmother and Grandfather's house is now for sale according to a postcard I received recently.  It is listed with Hammond for $975,000.
Wherever you're celebrating today – enjoy!  Happy Thanksgiving.
First stop on our tour of new listings tomorrow is a Somerville condo for sale at 17 Bonair Street.
17 Bonair Street Unit A is absolutely gorgeous.  It's a large one-bedroom with a real cook's kitchen, walls of custom built-ins in the den and bedroom, and a private enclosed patio that's the perfect spot for parties or grilling dinner after work. It's painted in designer colors and outfitted with custom lighting and wood blinds.  You'll appreciate the in-unit laundry, the extra storage downstairs, and the parking space. 
17 Bonair Street in Somerville MA is close to commuting routes, the Orange Line T, the supermarket, the exciting new Assembley Row development, and Union Square.
This smashing Somerville condo is for sale for $329,000.  Call me at 617-504-1737 for more information or send me an email at [email protected].
17 Bonair St Unit A Somerville MA 02145 is listed for sale with Elizabeth Bolton of ReMax Destiny in Cambridge MA.
Do you or someone you know have an appreciation for mid-century modern houses?  If you do there's one you must see this weekend.  If you like – or love – this style of architecture you just may be tempted to make this house your own – even if you're not planning a move.
When mid-century modern houses pop up on the MLS hotsheet I try to get out and take a look.  I've toured houses in Belmont, Lexington, Arlington, Lincoln, Concord and Cambridge.  Yesterday I headed to Melrose after this mid-century stunner caught my eye online.  Of all the houses from this period that I've toured it's difficult to remember a house as fine.
110 Ellis Farm Lane in Melrose is spectacular.  Architect designed and built in 1960 it's had just own owner.  Very little has been changed – you'll love the fireplace, the fixtures, the hardware and cabinetry.
The house is anything  but ordinary.  It appears to float in the air – with much of the house supported by steel beams atop concrete piers with no foundation below.  The wall of glass in the living room looks out over woods and there's a big deck and a screened porch.
Listed by the Linda and Alison team from ReMax in Melrose, 110 Ellis Farm Lane is open on Saturday, Sept 28, 2013 from 11;30 to 1 pm and on Sunday, Sept 29, 2013 from noon to 1:30.
Well if it's all about location, location, location then you'll definitely want to stop by my open house this weekend.  I'll be hosting open houses Saturday and Sunday at 41 Bowdoin Street in Cambridge.
Bowdoin Street is a *super* location.  It's in the Radcliffe neighborhood, not far from Harvard Square and close to Porter Square too.  It's a quiet side street in a neighborhood filled with beautiful houses but so close to the hustle and bustle of Mass  Ave where you'll find loads of restaurants, pubs and boutiques.
Unit 44 at 41 Bowdoin Street is new to the market this weekend.  It's a one-bedroom condo with a study.  The study has a closet and could be used as a small second bedroom.  There's a fireplace in the living room that will make for cozy evenings and the skylight in the hallway means that the condo is light and bright even on the gloomiest of days.
I do think that location has a huge impact on your daily happiness and you'll love living here.  I imagine that's why condos don't turn over very often at 41 Bowdoin – once you move in you don't want to leave.
41 Bowdoin Street Unit 44 in Cambridge MA will be open from 1 to 2 pm on Saturday and Sunday, September 7th and 8th.  It just came on the market this weekend and is listed at $395,000.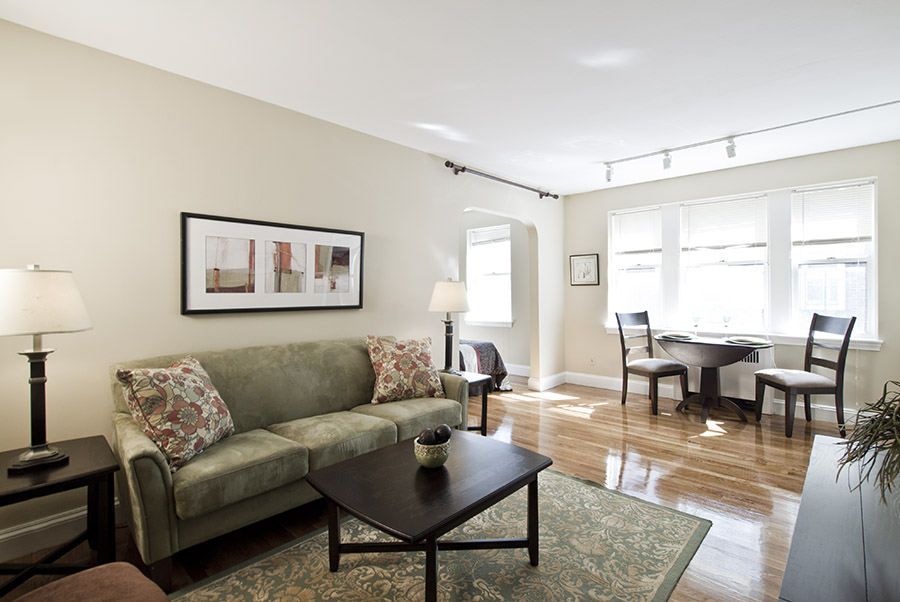 This bright and sparkling three-room Mid-Cambridge studio lives large. 
395 Broadway Cambridge MA is new to the market today.
Located in a classic Cambridge brick building, the condo features a spacious living / dining room, a separate bedroom alcove, an updated kitchen and gleaming hardwood floors. 
The generously sized foyer has three closets and can easily do double duty as an office space. 
There's additional private storage downstairs as well as bike storage.  The laundry facilities are on the first floor and the building has an elevator.
It's easy to live car-free at 395 Broadway in Cambridge, centrally located within an easy walk to Central Square, Inman Square and Harvard Square.  Rental parking behind the building is available for $90 per month with a short waitlist.
395 Broadway Unit L3F will be coming on the market today for $279,000 and can be seen at open houses on Thursday, July 11, 2013 from 5:30 to 7 pm and on Saturday and Sunday, July 13 and 14, from 1 to 2 pm.
For more information call Liz Bolton at ReMax Destiny at 617-504-1737 or email me at [email protected]