Tis a rainy, rainy Christmas. 
Best wishes for the happiest of holidays for you and yours.
Liz @ Centers and Squares
Lydia Marie Child wrote of traveling for Thanksgiving in her poem, Over the River and Through the Woods. 
The poem is sometimes written as "to grandmother's house we go" but the original version, published in 1844, referred to grandfather's house.
 Over the river, and through the wood
To grandfather's house we go;
The horse knows the way to carry the sleigh
Through the white and drifted snow.
Over the river, and through the wood,
To Grandfather's house away!
We would not stop for doll or top,
for 'tis Thanksgiving Day.
Over the river, and through the wood—
oh, how the wind does blow!
It stings the toes and bites the nose
as over the ground we go.
Over the river, and through the wood—
and straight through the barnyard gate,
We seem to go extremely slow,
it is so hard to wait!
Over the river, and through the wood—
When Grandmother sees us come,
She will say, "O, dear, the children are here,
bring a pie for everyone."
Over the river, and through the wood—
now Grandmother's cap I spy!
Hurrah for the fun! Is the pudding done?
Hurrah for the pumpkin pie!
The river was the Mystic River and grandfather and grandmother's house stands to this day at 114 South Street in Medford looking out at the river.  The house that Child refers to is a smaller, modest portion that now serves as an ell to the large, imposing Greek Revival house that was added in 1839.
Grandmother and Grandfather's house is now for sale according to a postcard I received recently.  It is listed with Hammond for $975,000.
Wherever you're celebrating today – enjoy!  Happy Thanksgiving.
I got to work early this past Sunday and wondered why there was a policeman at the corner outside my office. 
A few minutes later I discovered I had a front row seat to a Cambridge costume race.  Families, friends – all sorts of costumed racers, young and not as young,  went running or walking past our front window.
I had a feeling that the theme had something do with superheros judging from the number of caped crusaders on the street.  Sure enough, this was the Superhero 5K race/walk.  Despite the theme I spotted a variety of costumes including Harry Potter and a bunch of purple grapes.
As you'll see the slide show the race seemed to be doubling back just outside my ReMax office – costumed runners were coming and going. 
Here's some of the pack in my somewhat fuzzy photos – click on the image below to watch the slide show.  Happy Halloween to all!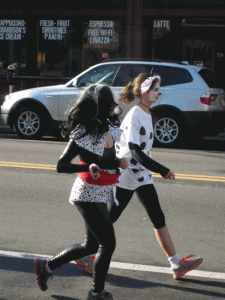 From my house to yours –
Wishing you the very merriest of Christmases.
The Saint Patrick's Day revelers were already out in force late this afternoon in Cambridge. St. Patrick's Day on a Saturday in Massachusetts – it reminds me of New Years Eve – a good night to stay off the roads.
Wherever you go tonight – or tomorrow – may you have a very happy St. Patrick's Day.
Here's a vintage postcard to celebrate the holiday. Someone sent it through the mail more than a century ago in 1909. It's one of the items I've collected that I'll be adding to my soon-to-debut vintage images website, VintageImagesToGo.com.  Ever since I began to blog it's been a challenge to find quality illustrations for posts.  VintageImagesToGo (or VITGO as I've been calling it) will help to fill that void.  We should be open for business in a month or so with an amazing collection of copyright-free retro illustrations to download. You'll find plenty to use in craft projects, in e-cards, in blogs, for business cards – you name it!
Looking for something different to ring in the new year?   Head on over to Prospect Hill in Somerville for the annual New Year's Day flag raising.
The Prospect Hill flag raising on January 1, 2012 marks the 236th anniversary of General George Washington's raising of the nation's first official flag on Jan. 1, 1776 on Prospect Hill.  A processional led by a Washington re-enactor on horseback will leave Somerville City Hall at 11:30 am.  The flag will be raised at Prospect Hill Park at noon.
There will be songs, readings, and re-enactments by several groups. Light refreshments will be served.  Books about Somerville's history and miniature replicas of the Grand Union Flag will be available for purchase.
The circa 1905 postcard at right reads in part: "Strongest work in besieging line of Boston 1775-1776.  On this Eminence Jan. 1, 1776, The Flag of the United Colonies first waved defiance to a foe."
Thinking about taking down the tree?  Wondering how to dispose of your Christmas tree?  We've pulled together the Christmas tree disposal info for local towns.
The lyric "but it took so long to bake it…" keeps running through my head as I ponder dismantling the Christmas tree. But I'm determined to get it outside for the regular pickup rather than sticking it in the yard until spring as I so often do.  And at least this year we won't be posing the trees in snow banks or waiting for the snowbank to melt and expose long since abandoned trees. Score one for global warming.
Remember: Trees must be bare – free of all decorations, tinsel and stand.  Do not put trees in plastic bags.  Wreaths cannot be mulched because of the wires and must be put in the trash.
Cambridge Christmas Tree Pickup and Disposal
Cambridge recycles Christmas trees and uses the mulch produced for city landscaping. 
Christmas trees in Cambridge will be picked up curbside on your regular trash day between January 3 and January 13, 2012. 
Cambridge residents may also drop off trees at the Recycling Center from December 31, 2011 to January 21, 2012 during open hours.  The Recycling Center, at 147 Hampshire Street, Cambridge, is open Tuesdays and Thursdays from 4 pm to 7:30 pm and Saturdays from 9 am to 4 pm.
Somerville Christmas Tree Recycling
The Somerville DPW will pick up Christmas trees left curbside in January for mulching.
Belmont Christmas Tree Pickup
Belmont will pickup Christmas trees left curbside on your regular trash day through January 12, 2012.
Medford Christmas Trees Pickup
You get one chance to get your tree picked up in Medford – Christmas trees will be picked up on your regular trash day the week of January 9 – 13, 2012. 
Watertown Christmas Tree Disposal
Christmas trees can be placed curbside for pickup during the month of January in Watertown.
Wherever you're celebrating today – at your house, at your grandparents', at a restaurant – have a wonderful Thanksgiving.
Lydia Maria Child, born in Medford in 1802, was an abolitionist, women's rights activist, writer and Unitarian.  
On Thanksgiving we remember her for her well-known poem: Over the River and Through the Wood, originally published as "A Boy's Thanksgiving Day" in 1844.
Over the river, and through the wood,
To Grandfather's house we go;
The horse knows the way to carry the sleigh
through the white and drifted snow.
Over the river, and through the wood,
To Grandfather's house away!
We would not stop for doll or top,
For this is Thanksgiving day…
The house of Lydia's childhood was a modest house that is now the rear portion of this handsome Greek Revival on South Street in Medford.  The addition, with its two-story columns, was constructed about 1839 by ship builder Paul Curtis.  The house faces the Mystic River.