Welcome to Centers and Squares
As a Cambridge real estate agent, the city squares of Cambridge, Somerville and Medford and the town centers of Arlington, Watertown and Belmont, Massachusetts are my home turf. And as a lifelong New Englander who's lived within twenty miles of Boston most of my life, I can introduce you to other nearby towns as we search for your new home. If you're planning to sell your home in Cambridge, MA or nearby you'll find plenty of info about the home selling process here too. Questions? Send me an email or call me at 617-504-1737.
I got to work early this past Sunday and wondered why there was a policeman at the corner outside my office. 
A few minutes later I discovered I had a front row seat to a Cambridge costume race.  Families, friends – all sorts of costumed racers, young and not as young,  went running or walking past our front window.
I had a feeling that the theme had something do with superheros judging from the number of caped crusaders on the street.  Sure enough, this was the Superhero 5K race/walk.  Despite the theme I spotted a variety of costumes including Harry Potter and a bunch of purple grapes.
As you'll see the slide show the race seemed to be doubling back just outside my ReMax office – costumed runners were coming and going. 
Here's some of the pack in my somewhat fuzzy photos – click on the image below to watch the slide show.  Happy Halloween to all!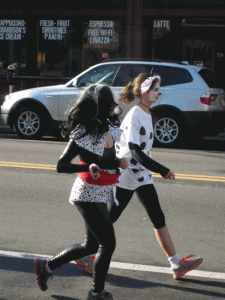 Leave a Reply