Archive for the 'Area Events' Category
May is Historic Preservation Month and Somerville has a wealth of activities planned throughout the month.  Here are some of them:
Tomorrow, Saturday, May 3, 2014, the Somerville and Cambridge historic commissions are teaming up to offer a walking tour of one of my favorite streets – Orchard Street.  Somerville and Cambridge are considering nominating the Orchard Street neighborhood for the National Register of Historic Places.  The walk starts at 10 am at the Porter Square Plaza on Somerville Ave across from the Porter Square T station
On Sunday, May 18, 2014 from 2 to 4 pm there'll be a Walking Tour of East Somerville.  "Identifying Architectural Gems from Gilman Square to East Somerville will be led by Edward Gordon of the Victorain Society in America.  The tour will begin at the Somerville Public Library, 81 Highland Avenue.
Mark your calendars for the Somerville Historic Preservation Awards Ceremony held on Thursday, May 22, 2014 from 6:30 to 9 pm at the Somerville Armory, 191 Highland Avenue.  A dozen Somerville property owners will be honored for their historic preservation work on the exteriors of their properties.  It's a great opportunity to hear about the transformations people have made with their rehab and restoration work.
On Wednesday, May 28, 2014 from 7 to 8:30 pm there'll be a talk at the Somerville Public Library, 191 Highland Avenue, on "Researching the History of Your House and Your Family".  If you're interested in local genealogy or the history of your old Somerville house you don't want to miss this lecture.
For more information about any of the events you can contact the Somerville Historic Preservation Commission at     617-625-6600 x2532.
I got to work early this past Sunday and wondered why there was a policeman at the corner outside my office. 
A few minutes later I discovered I had a front row seat to a Cambridge costume race.  Families, friends – all sorts of costumed racers, young and not as young,  went running or walking past our front window.
I had a feeling that the theme had something do with superheros judging from the number of caped crusaders on the street.  Sure enough, this was the Superhero 5K race/walk.  Despite the theme I spotted a variety of costumes including Harry Potter and a bunch of purple grapes.
As you'll see the slide show the race seemed to be doubling back just outside my ReMax office – costumed runners were coming and going. 
Here's some of the pack in my somewhat fuzzy photos – click on the image below to watch the slide show.  Happy Halloween to all!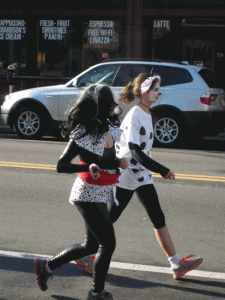 There's  a party in Union Square this weekend – the What the Fluff festival takes place in Union Square Somerville tomorrow afternoon from 3 pm to 7 pm.
The What the Fluff festivities celebrate the invention of Marshmallow Fluff by Archibald Query of Union Square.  Query cooked up the spread in his kitchen and sold it door to door almost a century ago.
There'll be judges awarding prizes for the best foods created with Fluff, a costume competition, games, and loads of music, food and fun.
The 8th Annual What the Fluff Festival happens on Saturday, Septmember 28, 2013 from 3 pm to 7 pm in Union Square Somerville
It's been a funny Spring season – cooler than typical with the windows often still closed and the puff still on the bed.  Contrast that with last year when Spring came early and so did warm weather.
Last year Spring sprung before most garden tours were held.  It was a different view of many of the gardens where blooms had long passed by the time of the tour.
This year we're back to a more typical calendar – the lilacs were out on Lilac Sunday, gardens will be in their full glory for upcoming garden tours.  Ideally we'll get some much needed rain this week and weekend to keep gardens looking their best.
Cambridge has switched to an every-other-year schedule so won't have a tour this year.  But a number of other towns are holding tours and I'll add more to the list I find them.  Check out the updated Massachusetts garden tours calendar and make your plans!
Seeing all the open studio signs last week in Somerville reminded me that it's high time to update the 2013 calendar of open studios in Massachusetts.
Not to worry if you missed last weekend's event.  There are more than two dozen upcoming open studio events listed on the calendar including Cambridge this coming weekend.
Open studios are a great opportunity to meet your neighbors, find something special for your place or for a friend, and a super way to support the local arts community.
Check out the calendar and if your event isn't listed please get in touch.
Nowadays it seems that we think of this holiday as Marathon Day. But the reason we have the day off is that today is the day we celebrate Patriot's Day.
Since I grew up in Concord Patriot's Day will always be one of my favorite holidays – and will always be April 19th rather than some random Monday.
But it seems even Paul Revere and William Dawes have adapted to the new calendar.
I came across this man on horseback today on Mass Ave in Porter Square and thought he must be Revere.  But Paul Revere's midnight ride didn't take him through Cambridge.  His route passed nearby through Medford and Arlington.  It was another messenger, William Dawes, who passed through Cambridge.
Is that a Redcoat on his tail?  I'm not sure.
Though it's cold and gloomy today, spring will be here shortly and with it – spring house tours.
I finally had a chance to update the Massachusetts House Tour  schedule and there are some super tours  in the offing.
The debut spring house tour is in Concord on April 6th.  The tour features houses that exhibit "new concepts in energy efficiency, accessibility and design".  Among the seven houses on tour are a LEED certified house, a 300-year old house that's been in one family for generations (my favorites!) and recently updated, and a contemporary.
Another one I'm looking forward to is Framingham's on May 19th.  You'll get to see a diverse group of properties including a contemporary on Lake Cochituate, a Colonial, an expanded ranch, a farmhouse, and an Arts and Crafts era house. 
Links to pages with ticket details and more for the spring house tours can be found on the tour page at left.
Several local libraries are running a library card challenge in February – Arlington, Belmont, Lexington and Somerville are competing to see which library can increase new library card sign-ups by the largest percentage.
There will be prizes for new library cardholders and one grand prize of an e-reader awarded.  New cardholder bling will include buttons, bracelets, pencils, bookmarks and more.
Already have a library card?  Bring a friend who signs up for a card and you'll receive a prize.
Your new library card is your passport to more than three dozen local libraries since Arlington, Belmont, Lexington and Somerville all belong to the Minuteman Library Network.