Archive for the 'Seller Info' Category
Every January it seems the real estate market is in the same place – buyers are ready, sellers aren't.
After real estate market activity ground to a halt for the holidays (and half the real estate agents in town went on vacation) I was hoping for a good selection of new listings on our weekly tour.  Instead we had just one property to see yesterday – a new conversion on Porter Street in Somerville with two very nice condos near Porter Square.
That means it's been three weeks with few new listings.  And it's really been longer than that since things slow down by Thanksgiving.
The buyers are champing at the bit. 
With few new properties listed for sale, many houses and condos that had been on the market for months were put under agreement over  the last 6 – 8 weeks.  Inventory levels have dropped.
But the buyers are ready and itching to get and out and see places. 
If you are planning to sell your home this spring – spring is here!  This can be a good time to list your home for sale.  You'll have eager buyers and less competition than later in the season when many more properties will be put up for sale.
Are you thinking about selling this spring?  I'd love to talk to you and can be reached by email or by phone at 617-504-1737
Liz Bolton
now of ReMax Destiny
Are you considering renting rather than selling your house or condo?  With the real estate market off its peak, some prospective home sellers are thinking about renting out their home rather than selling it at today's price.  
Or perhaps you've had your property on the market for some time and would rather get some rental income and try to sell down the road.
There are some important factors you should keep in mind if you want to rent a property now that you plan to sell in the future.  Aside from the ins and outs of being a landlord, how to get good tenants, what rent to charge, etc. there are issues to consider when you're thinking about renting out a property that you really would like to sell.  Here's what to keep in mind:
When will the lease end?  It doesn't make a lot of sense to have your lease end at a slower time in the real estate sales market.  If you have tenants through August, for example, you'll be ready to sell in the fall and will have missed the busy spring market.  Ideally you want to be ready to sell in the spring.
It won't be easy to sell with tenants in your property.  Tenants and home sellers do not have the same goals.  As a seller you want your place to look its best and to be easy to show.  Tenants have no motivation to keep the property show-ready and even less motivation to make it easy to show.
When real estate agents look at properties for sale we'll sometimes inquire "Is this place rented?"  That's code for "This place is a mess and if it's the seller who lives here why haven't they cleaned up?"  It's a rare (and prized!) tenant who keeps a property as well as a motivated seller.
For weeks I've been trying to show two Cambridge condos to a prospective buyer.  In each case, the tenant is not cooperating and we've not been able to schedule a showing.  The sellers are building up days on market, making their condos look "stale" and unappealing, while in reality few buyers have even been able to see the properties.  Amazingly, in one case the tenant is related to the seller.  In fact, in my experience relatives or "friends" of the sellers can be the most uncooperative when they're faced with showing requests.
When your property is empty of tenants you'll need to spend time and money cleaning and buffing it up by making any needed repairs, refinishing floors, etc.  You may alos want to budget for staging.  Properties typically sell better when furnished so you'll want someone to stage your house or condo with furniture and accessories.
Renting rather than selling may make sense but you want to make sure you're positioned for a successful sale at the end of your lease.
Are you hoarding light bulbs?
I am.
And maybe you should too if you're thinking of selling your house or condo in the future.
Those new fangled lightbulbs – the squiggly ones – are a bummer if you're trying to sell your place.  They're dim and they take too long to light up.
When you're selling your place you want it to read as bright and cheery.  Dim bulbs just won't do.  And seconds count – if a light has to be turned on and it takes too long to brighten up you've already lost your chance with those buyers.  "Bright and sunny" is towards the top of  most buyers' wish lists.
Supposedly some of these energy efficient bulbs will match the light of the "regular" bulbs.  It's not true in my experience and I'm not about to do a lot of research before I buy lightbulbs.
So before the traditional light bulbs are phased out I'll keep buying lots of them every time I'm at the store.  Even if you've switched over to the new lightbulbs it's a really good idea to stash away enough to replace them all when it's time to sell.  You'll be the brightest house on the block!
The Fall real estate market goes by quickly.  In no time it seems we're bumping up against the holidays.  Many home sellers wonder – should we take our home off the market for the holidays?
There isn't a quick and easy answer to this question.  There are definite advantages to keeping your house on the market over the holidays but there are some benefits to taking it off the market too.  Everyone's situation is different.  While it's very possible that your home will sell over the holidays you may instead choose to give yourself the gift of minimized stress and uninterrupted holidays.  Here are some of the things to think about.
Benefits of Keeping Your House on the Market Over the Holidays
Less competition.  Since many sellers takes their homes off the market and others wait until after the holidays to list their house for sale, there are fewer homes for sale between Thanksgiving and Christmas.  That increases the odds that you'll sell – a lot of inventory gets soaked up over the winter.  Even now, in early November, fewer sellers are listing their homes for sale and properties that have been on the market for months – in some cases over a year – are finally selling.
There are buyers out there.  Buyers are always coming into the market.  People relocate for work or a myriad of other reasons.  Sellers get an offer on their own house for sale and immediately become much more motivated.  Whatever the reason, there are always homebuyers looking.
Holiday home buyers are serious. If buyers are going to the trouble of seeing properties with the holidays drawing close it's likely that they're motivated.  Better to have a motivated buyer with a reason to buy than larger numbers of buyers just getting their feet wet.
You can't win if you don't play.  That's a slogan for buying lottery tickets but it applies to selling your home too.  The perfect buyer for your home may be in town this weekend.  If you're not on the market they won't be buying your property.  Relocating buyers or employees being transferred to the Cambridge area aren't browsing – they're buying.
Reasons to Take Your Home Off the Market Over the Holidays
If you're getting fewer buyers through your home, if the numbers of requests to show your property are dwindling, it may be time to give your home a break.  Take it off the market for a few weeks, or even a few months, and bring it on fresh in the spring.
If you're sick and tired of keeping your house picked up and show ready, give yourself a break.  Enjoy the holidays without interruptions and without the inconvenience of getting ready for showings.
Reset the clock.  If your property is off the market long enough you'll be able to reset the days on market tally.  There's something to be said for resetting the days on market.  Even though homes are not perishable items it sometimes seems that buyers think they are given their sensitivity to the DOM (days on market) number.  Let those days pile up and buyers and agents start questioning what's wrong with your property.  Get a fresh start by resetting the clock.  Make sure you ask your current agent what's needed to ensure that you come  back on the market with "zero" days on market.
You and your agent will want to decide if you should take your home off the market for the holidays.  Remember – houses and condos do sell over the holidays.  If you're hoping your home is one of them, give me a call and we can make a plan.
Winter's coming – with a snowstorm in October it becomes more difficult to ignore the impending cold weather.
An empty house in winter is a potential disaster in the making.  In the last few years, I've noticed a number of properties listed for sale at a fraction of their former value.  Not because real estate values have dropped but because the houses were severely damaged when the pipes burst during the winter.
Water cascading through a house is devastating.  Floors buckle, plaster comes down, fixtures and appliances are ruined.  A flood from burst pipes can easily result in $100,000 or more of damage or loss of value.
Ideally, you won't leave your home empty through the winter.  Perhaps a family member or friend can stay in the house.  Insurance coverage for vacant properties is very expensive – because the risk is high.  My vacant property insurance came from Lloyd's of London – with a price tag to match – when my house renovation was underway.  It's worth it to have someone stay in your home – even if they're camping out in an empty house.
Empty bank-owned properties are "winterized" by companies that drain the radiators and plumbing and shut off the utilities.  It's by no means the best way to show a property – freezing cold, no lights, and tape over the toilets – but it does prevent damage.
At a minimum someone should be checking the house daily.  Make sure the heat is on and there's plenty of fuel if you heat by oil.  Economizing on heat could be a very expensive way to save money if problems ensue.  If your heat is turned down too low and goes off for some reason the house will too quickly cool to a dangerous temperature when the weather is at its coldest. If the house is kept at 68 degrees and it's down to 50 degrees when someone checks you can catch the problem before you're in serious trouble.
If your house is vacant it's time to start thinking about how to make it through the winter.
If you're buying or selling  a house or a condo in Massachusetts you're probably wondering what you need to bring to the closing.
The real estate "closing" is sometimes referred to as "passing papers" – and no wonder – if there's a mortgage involved there'll be a lot of papers getting passed around the table.  Nowadays, selling a house or condo in Massachusetts involves a great deal of paperwork.  So come to the closing table with a limber wrist – you'll be signing your name over and over.  Here's what else you need:
What Do I Need to Bring to the Closing When I'm Buying a House or Condo in Massachusetts?
Photo ID – you'll need a photo ID – usually a driver's license or passport.  It's not a bad idea to bring a second form of ID since every so often a lender asks for a 2nd form of identification
A Bank Check – Unless you've arranged in advance to wire the funds you need for the closing you'll need to get a bank check (aka a treasurer's check) for the money you need.  This is not the same as a personal check from your checkbook. 
Your attorney or her paralegal will tell you the amount you need a day or so before the closing.  Ask how the bank should make out the check – typically you'll be asked to have the bank make it out to you.  At the closing you'll sign the check over to the lender.
Your Checkbook – It's not uncommon to need to write a small check at the closing – perhaps an adjustment is made on the settlement statement, a charge has been omitted, or the amount of your bank check was estimated. More and more often people aren't carrying a checkbook so be sure to bring yours with you.
Your attorney or lender may require you to bring something else but these are the must-haves at every closing.
What Do I Need to Bring to the Closing When I'm Selling a Condominium or House in Massachusetts?
Your job as seller is much easier at the closing – you've only a few documents to sign.  Here's what you'll need to bring:
Photo ID – a driver's license or passport
Your Checkbook – Usually you're getting the check, not writing one, when you're selling your property. But just in case some small adjustment needs to be made it's a good idea to have a check or your checkbook with you at the closing.
The Keys – You'll be passing along the keys to the new owners.  Don't forget the mailbox key and the garage door clicker (or leave them in the house or condo).
Ask your attorney if there's anything else you're required to bring.
When you're selling your house or condo in Cambridge the first impression your home makes on real estate agents and buyers is critical.
Often that first impression comes at your doorway.  When your house is for sale it's time to replace that worn and faded old welcome mat.  Nowadays, with stylish doormats available at your local hardware store, it's easier than ever to spruce up your front entrance. 
These rugs, displayed near the entrance to Tags Hardware in Porter Square, are just what you need to add a splash of color outside your door.  The indoor / outdoor mats are washable – said to wash "better than your jeans" – and come in a variety of bright, colorful designs.  Dog lovers take note – several have cheery designs featuring Labs and other dogs.  No cats, however, so I bought one of the more traditional patterns – the pineapple welcome mat seen below.
The Jellybean rugs cost $29.99 – a small investment for a big return when you're selling your home.
Visit Tags Hardware in the Porter Square shopping center, 29 White Street, Cambridge MA  02140.
"Sorry, I can't make that time."
"That time won't work."
"I'm already booked on Saturday.  You have to call by Tuesday."
"None of us is available then."
"Sorry, I've got another appointment."
"I'm going to be three towns away at that time."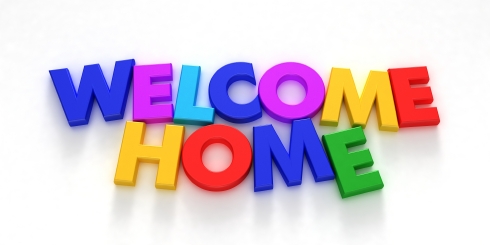 These are not the things you want your agent to say when another agent calls to request a showing of your property.  Yet sadly we hear excuses like these all the time when we make calls to show properties in Cambridge.
Many Cambridge real estate agents think that accompanied showings – when the listing agent meets the buyer and the buyer's agent at your property – are the way to show property.
In fact, there are many drawbacks of accompanied showings but limiting accessibility is the most critical one. 
You need to show your property to sell it – to as many buyers as possible.  Every potential showing is important – even more so nowadays in a very competitive real estate market.  It's often not possible for an appointment to be rescheduled at the convenience of the listing agent.   Buyers are coming to Cambridge from out of town, or after work, or for a buying trip lasting just a weekend.  You want your house in the mix.
It's simply unrealistic to think that an agent – or even a team of agents – can accomodate every request for a showing.  Some do a better job than others accomodating requests for appointments. But even the most flexible of agents or team of agents can't be available all day and every day.  Instead, usually unbeknownst to the sellers, listing agents throw up roadblocks to showings.
Don't let this happen when you're trying to sell your home.  Talk to your real estate agent about using a lockbox to enable buyers agents to show your property without your listing agent. 
When someone calls about showing your home to a buyer the best answer is "No problem".   Make sure the welcome mat is out – and sell your home!